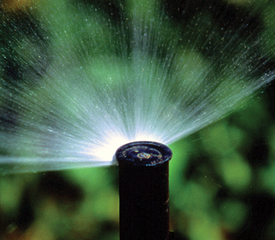 The most beautiful landscapes have an efficient irrigation system behind it. Keeping your lawn thriving can be tiring during our hot and dry Virginia summers. Are you…
• Dragging around hoses?
• Watering the house? The fence? The street?
• Keeping an eye on the clock and interrupting what you're doing to move the above-ground sprinkler?
• Confident that the water has reached all the places it's needed? That you haven't watered too much? Or not enough?
Sprinkler System Design & Installation
With a professionally installed complete sprinkler system from Complete Lawn Service, every area of your property will receive the proper amount of water. All your grasses and plants will receive the right amount of moisture, regardless of the weather. Learn more.
Sprinkler System Repair and Upgrades
If you have an existing sprinkler system, we can help maintain it and keep it functioning properly. Learn more.
Why Select Us
Choosing the right irrigation contractor is important. Complete Lawn Service is a member of the Virginia Irrigation Association, a Rain Bird Select Contractor and an EPA Watersense Partner. We have a nationally certified residential irrigation designer on staff.