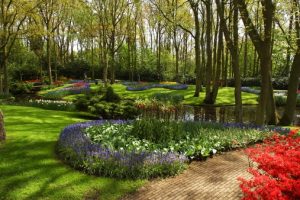 When you're searching for the highest quality in Prince William landscaping companies, try choosing the professionals at Complete Lawn Service. We can bring out the full, beautiful potential of your outdoor living space, and help you come home not just to a stunning lawn and landscape, but also to a more valuable home with a greater return on your investment…as much as 15%, as studies have shown.
For over 35 years and counting, Complete Lawn has been a family-owned company that has brought the finest results to northern Virginia residents. Here are a few of the services where our work has enabled us to stand out among Prince William landscaping companies:
Lawn Care. Professional mowing isn't just about cutting grass. We'll edge your lawn every other week, change direction where terrain permits, and we'll weed-whip the areas our mowers won't reach. Our varied and specialized lawn care programs give you a thick, green lawn free of weeds and insects, and our shrub and bed care programs will keep your shrubs and plants trimmed and healthy.
Landscapes/Hardscapes. Form and function…our landscapes do both with a properly arranged and well-balanced placement of plants and shrubs. Our hardscapes bring an attractive look to your walkways, patios and retaining walls, and both our landscapes and hardscapes feature proper drainage to care for the structure and soil.
Irrigation. Watering is everything when it comes to a healthy and beautiful lawn. That's why we employ a Certified Irrigation Designer to inspect your property, check the pressure and flow and install a system with the necessary components to evenly distribute water and minimize runoff. Your system will automatically irrigate your lawn and conserve water; and we can repair and upgrade it when needed.
That's not all…we can also spray your property with an environmentally friendly oil to rid your property of ticks and mosquitoes, and in the winter months, we use our plows to remove the snow and ice from the outside of your home and help you get to work or elsewhere.
We believe Complete Lawn's expertise and experience makes us the smarter choice in Prince William landscaping companies. Call us today or contact us through this website and arrange a complimentary consultation. We look forward to creating an outdoor space you'll love!