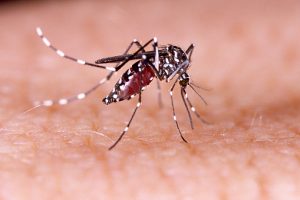 Most residents in northern Virginia know about our problems with mosquitoes and ticks. A major pest control company recently conducted a study that ranked the D.C. region as one of the top 20 worst in the nation for mosquitoes. If you reside here and are searching for safe Lake Barcroft VA mosquito control companies, call on the pros at Complete Lawn. We'll help you rid your property of pesky infestations.
While mosquito and tick bites and their skin irritations are bad enough, there's also the potential danger of more serious diseases from bites, such as Lyme disease. But as a property owner, you also don't want to put your family and neighbors at risk spraying poisonous chemicals. That's why at Complete Lawn, we use environmentally friendly sprays devised from natural oils. Once we're done spraying your property, your family and pets will be able to use it immediately.
The professionals at Complete Lawn are fully licensed and trained experts in pest control and can show you how to make your lawn less friendly to insects. Our spray program involves a treatment approximately every two weeks from April through October. We apply BT product to your standing water areas and spray the perimeter of your property, while paying special attention to places like underneath decks and woods lines where insects tend to congregate. After the treatment, we'll leave a bright yellow glue card to monitor further insect activity.
No treatment can effectively eliminate every mosquito, but we fully guarantee our service and will be happy to come out and re-spray if you notice a problem within five days.
If you want to find out more about how our natural sprays and expert techniques make Complete Lawn the preferred choice for Lake Barcroft VA mosquito control companies, call our office at (703) 560-5296, or use this online form to request an estimate. We'll help you keep your lawn healthy year round.