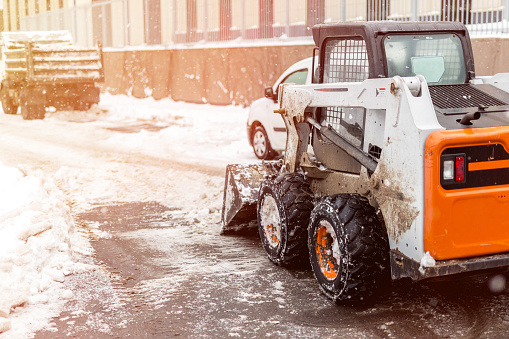 Complete Lawn isn't just about lawn service. In the winter months, when you're in need of Alexandria commercial snow removal companies, we're here to keep your business running!
We may not get a great deal of snow in the northern Virginia and D.C. region…on average, it's about 7.2 inches of snow accumulation per year. But when the cold weather brings sleet, hail, and freezing rain, it can make driveways, parking lots and sidewalks extremely unsafe. A pile of snow or sheets of ice on your parking lot or walkways could cause an accident or injury to a customer or an employee. In addition, shutting down a business for a day or more is a tough hit on that business's bottom line.
Leave the snow and ice removal to Complete Lawn, and take the worry out of keeping your business safe. We monitor snow and ice conditions in the forecast, and keep our crews on call to meet our clients' needs when Mother Nature strikes. When the snowfall is done, we're ready. Our crew comes out and starts clearing snow and ice as quickly as possible, to keep your business operating and serving your customers.
We have the equipment and manpower to handle most every need in Alexandria commercial snow removal:
Snow plowing, sidewalk shoveling and snow blowing
Pre-treatment of lots and walkways
Application of ice melt product
Sand application for icy conditions
Loader services for handling larger snow events
Post storm monitoring and treatment with ice watch service
Schedule Your Alexandria Commercial Snow Removal Services Today.
Don't let a snowstorm delay or shut down your place of business. Go with the snow removal service that local businesses trust to keep them open. Contact us today and find out more about why we're the smart choice in Alexandria commercial snow removal companies. Complete Lawn is ready to keep your outdoor space beautiful and clean year-round!
At Complete Lawn, we stay on top of lawn and landscaping trends and best practices. We are a proud member of the Virginia Turfgrass Council, the National Association of Landscape Professionals, and the Professional Grounds Management Society.