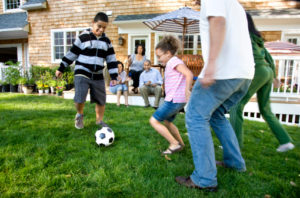 When you're in the market for dependable Oakton lawn service, we hope you'll seek out the trained and experienced professionals at Complete Lawn Service. Complete Lawn is family owned and operated and our staff of experts use top quality materials to beautify your outdoor space, whether you live in a split-level or stately colonial home. Our team has been creating eye-catching, visually appealing and functional lawns and landscapes in northern Virginia for over four decades, and we have plenty of experience improving outdoors spaces like yours.
We offer a range of reliable and dependable Oakton lawn service to meet all of your needs:
Lawn Care. Proper mowing and edging makes all the difference in an attractive lawn. We sharpen our blades regularly, weed-whip areas mowers can't reach, and change mowing direction and grass height based on the time of year. We also maintain plants and trims trees and shrubs with a variety of bed care programs.
Landscaping. We can design a landscape for you that includes a combination of a lush lawn and healthy plants that is as functional as it is beautiful. Our hardscape designs include patio spaces, outdoor walkways and retaining walls. We also design and build drainage systems that relieves compacted soil and prevents flooding.
Irrigation Systems. A beautiful lawn requires a first-class sprinkler system that conserves water and reduces runoff. Complete Lawn employs a Certified Irrigation Designer to analyze your property and determine the best components to address pressure and flow. Once installed, we maintain the system through all seasonal changes and we can repair or upgrade your system as needed.
Our dependable Oakton lawn service extends beyond improving your outdoor space. We also eliminate those pesky northern Virginia mosquitoes using environmentally and pet-friendly natural oils, and during the winter months, our crew is available to dig you out of the snow, melt the ice and get you back outside again.
Click on "Contact Us" today to get a price and read testimonials from satisfied customers. We are ready to help you love your outdoor space!