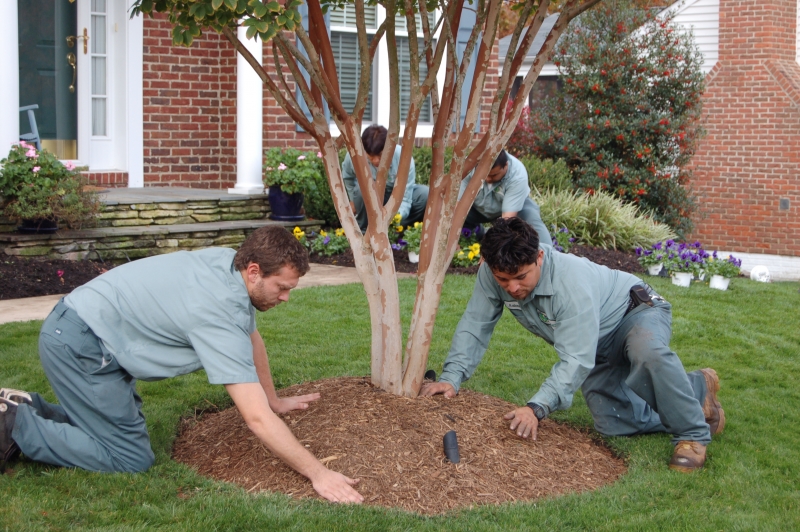 Complete Lawn offers a tree, shrub and bed care program includes year-round maintenance (fall, summer and spring) that will keep your shrubbery healthy and attractive and add curb appeal and value to your property.
Trees, shrubs and flower beds add attractive variety to your home's façade. As these plants mature, you will see your outdoor space fill in. But if they wither or become overgrown, it mars your carefully crafted landscape. Not only do shrubs and trees contribute to the visual appeal of your lawn, but with professional landscaping and maintenance, you may realize up to 15% larger return on investment in your home.
Our Shrub and Bed Care Services include:
Plant Health Care Program (IPM) – (10 Visits) – This program focuses on the health of your plants by carefully monitoring them for seasonal and long term changes, paying careful attention to signs of plant stress caused by heat, water, insects, disease and other factors. When needed, we take corrective action to optimize your plant health, applying pesticides only when absolutely necessary. This program incorporates fertilization, preventative and corrective treatment for insects and disease, as well as dormant oil and winter burn protections.
Bed Detailing Program – (10 Visits) – This program focuses on keeping your beds looking great year round, and includes regular visits to perform hand and/or chemical weeding of the bed areas. We will also perform edging regularly to keep your beds looking neat and tidy year round.
Shrub and Tree Trimming Program – (5 Visit) – Our proper trimming and pruning program will keep your shrubs healthy and well-shaped, and encourage flower growth. The trimming program includes one dormant pruning of shrubs prior to the bud break, three shrub pruning visits throughout the growing season, and one winter tree trimming visit for trees up to 20 feet high. This may sound like a lot, but different shrubs have different requirements in terms of when they should be trimmed and to what degree. We designed this program for optimal shrub and tree health.
Full Service Shrub & Bed Program – (10 Visits) – This includes all of the services performed on the IPM, Bed Detailing and Trimming Programs. This program is heavily discounted to reflect the fact that work is combined and eliminates travel costs.
Find out more about our shrub and bed care programs…reach out to us today or use the form below to request an estimate. We're looking forward to adding value and beauty to your property!