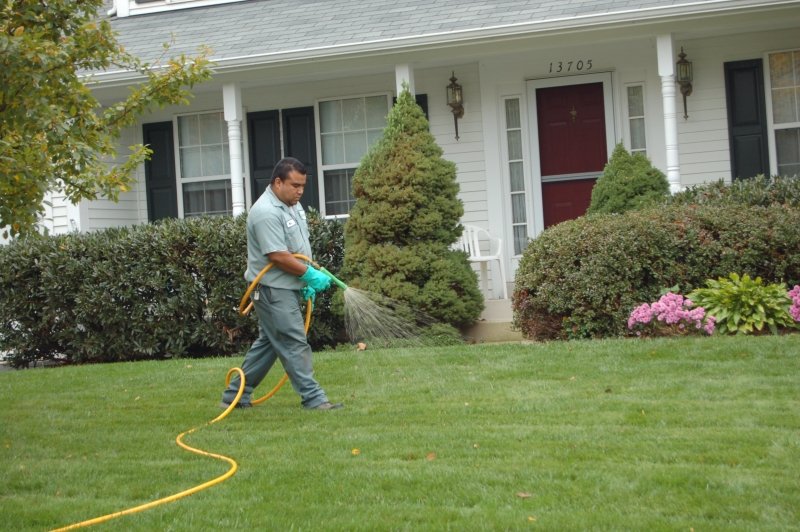 Complete Lawn provides a full range of lawn seeding, lawn feeding and lawn care services to homeowners throughout Northern Virginia. We can create a lush, green lawn around your property that adds curb appeal and value.
There is a lot more that goes into a vibrant, healthy lawn than the occasional mowing or watering. To keep your lawn at its best all year, you need to keep weeds and insects under control, and maintain quality soil and fertilization. Proper lawn care maintenance can be daunting and time-consuming for homeowners, but it doesn't have to be. We offer a selection of lawn care programs to keep your lawn looking its best year round!
Our Northern Virginia lawn seeding & fertilization programs include:
Basic Lawn Care Program (five visits) – Our professionals will add fertilizer, handle weed and crabgrass, inspect your lawn for disease and insect activity, aerate and seed the entire property and much more over the course of a year.
Premium Lawn Care Program (seven visits) – In addition to the Basic features, we conduct a soil analysis and make extra visits for more thorough broadleaf and weed control.
Zoysia Lawn Care Program (six visits) – This program offers most of the Basic program features, with 1/2 rate balanced slow release granular fertilizer when needed
Organic/Watershed Lawn Care Program (seven visits) – The organic program includes tending to your lawn with natural organic fertilizer and corn gluten, along with organic soil conditioners in the summer time.
Find out more about our lawn care, seeding and fertilization services for your northern Virginia property…reach out to us today or use the form to request a quote. We can keep your lawn beautiful throughout the year!