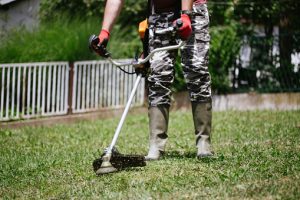 Are you searching for a trusted name in Lake Barcroft landscaping companies? Complete Lawn Service is your full service landscaping destination, for both residential and commercial properties.
Whatever your outdoor needs, Complete Lawn does it all, from landscaping to lawn care to irrigation. Our team will design and maintain a beautiful landscape that increases your home's livability and visual appeal…and adds to your home's resale value.
Your Lake Barcroft Landscaping Experts
Complete Lawn is a local, family-owned business based in Alexandria, that has been helping northern Virginia property owners achieve the full potential of their outdoor space since 1972. Like our name says, we provide complete lawn services, for outdoor spaces that look great and provide real function.
Our suite of landscaping services for Lake Barcroft property owners includes:
Landscapes/Hardscapes. Our landscaping arrangements are both eye-catching and sustainable, with a nicely balanced combination of plants and shrubs. Our hardscape designs range from elegant to natural, with strategically placed patios, walkways and water features. We also provide drainage services that eliminate flooding and erosion.
Lawn And Plant Care. Leave the hassle of lawn care to us…we provide bi-weekly mowing and edging throughout the season, including bagging and recycling clippings. Our lawn care programs provide quality soil and remove weeds and insects for a vibrant, healthy lawn. And our varying shrub and plant care programs keep trees and plants growing and neatly trimmed for a truly stunning outdoor look.
Irrigation. Our Certified Irrigation Designer determines proper watering for each zone in your property, and designs a custom sprinkler system that uses state-of-the-art components and eliminates wasteful runoff. Our maintenance service includes inspecting connections and adjusting sprinkler heads, and turning off the supply for the winter. Complete Lawn can repair or upgrade any system as needed.
We also spray your property for mosquitoes and ticks too, with safe, naturally derived oils rather than chemicals. And in the cold season, we plow snow, shovel sidewalks and remove ice to help you or your business get going again and escape the dreaded cabin fever!
Whatever your landscape and lawn care needs in the D.C. region, Complete Lawn can get it done for you…we have the knowledge, equipment and experience to reform and maintain your outdoor space.
Get started with a lawn and landscape that you'll love coming home to today! Contact us today for a free consultation, and see how our professional experience sets Complete Lawn apart from other Lake Barcroft landscaping companies. We look forward to beautifying your outdoor space.