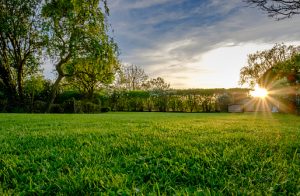 Are you looking for a respected name in Reston VA landscaping companies? Complete Lawn Service is just that…a comprehensive destination for landscaping services in northern Virginia. At Complete Lawn, we handle everything from lawn care to landscapes and sprinkler systems. We'll help you create a beautiful outdoor space for great visual appeal on your property, and added resale value on your home.
Landscaping and caring for your outdoor space is worth the trouble…but as you know, it's hard work! Let Complete Lawn help you avoid dealing with bugs, dirt and heat, and build an outdoor space that you will love coming home to.
Our Landscaping Services For Reston VA  Property Owners
Complete Lawn Service is a family-owned landscaping company that has been beautifying homes in the Reston area and beyond since 1972. Our list of lawn services includes:
Landscaping and Hardscapes. We offer landscaping that is both pleasing to the eye and sustainable, including a well-balanced combination of plants and bushes. Our team can design and build a hardscape with patios and walkways that are strategically arranged for both visual appeal and function. Our designs will help with drainage too, to greatly reduce flooding and erosion.
Lawn and Plant Care. Leave the hard work and hassle of lawn care to us…our bi-weekly mowing and edging includes bagging and recycling clippings. We offer several lawn care programs specific to your space, with quality soil and weed removal for a healthy and green lawn. And we'll keep your bushes and plants growing and nicely trimmed for a striking, beautiful outdoor look.
Irrigation. Our Certified Irrigation Designer will take a look at your property and design a specific sprinkler system with high end components to evenly distribute water and avoid waste. We can also maintain your system, with periodic inspection of connections and adjusting sprinkler heads. Complete Lawn will deactivate your system in winter and can repair or upgrade a system if needed.
We can also rid your property of mosquitoes and ticks, with an environmentally friendly spray made from natural oils. We're here for you in the winter months too…when snow comes, we can use our plows and shovel sidewalks to get you outside again.
Never used our services before? Call now and get 50% off of your first mowing or lawn maintenance service! Contact us for a free consultation and see what sets Complete Lawn apart from Reston VA landscaping companies. We look forward to changing your outdoor space for the better!