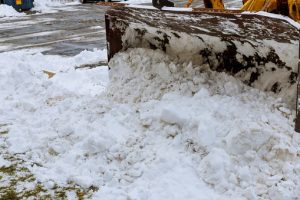 You can always count on Complete Lawn to create beautiful outdoor spaces for you in the spring and summer. But we don't stop in the winter months. If you're seeking efficient Alexandria residential snow removal companies, contact us for that too…we can keep your home safe and clear after a snowfall of any size.
In Alexandria, we don't usually see large amounts of snow in our winters. The D.C. region usually gets from 7-8 inches of snow each year. But our climate can cause storms that bring a mix of freezing rain and dangerous icy conditions, making your driveways and sidewalks very unsafe for you and your visitors. If you're an Alexandria residential property owner, you could be responsible and liable for insufficiently cleared walkways and lots.
You have more important things to worry about. Let the crew at Complete Lawn handle all of your snow and ice removal, from clearing your outdoor spaces to applying sand and ice melting products. We'll keep an eye on the forecast and weather conditions, and our staff and equipment will be ready to go as soon as the snowfall is over. We'll keep your property safe and clear, and allow you to escape that winter cabin fever.
Our Alexandria residential snow removal services include:
Plowing snow, blowing snow, and shoveling sidewalks
Pre-treating driveways and lots
Applying ice melting product as needed
Applying sand products for traction in icy conditions
Enabling loader service for larger events
Monitoring post-storm ice conditions
Don't let a snowstorm cause you to miss a day of work or keep you from your daily activities. Call on snow removal that northern Virginia residents and businesses use. Contact Complete Lawn today to find out more, and see why we're a trusted name in Alexandria residential snow removal companies. Complete Lawn can keep your home beautiful and safe year-round!
Snow removal is just one of the wide variety of first class services we offer at Complete Lawn. Reach out to us for all of your landscape and lawn care needs, including mowing, seeding, shrub care, hardscape design and more!
Complete Lawn Service is a proud member of the Professional Grounds Management Society. Read more about the PGMS here at their website.