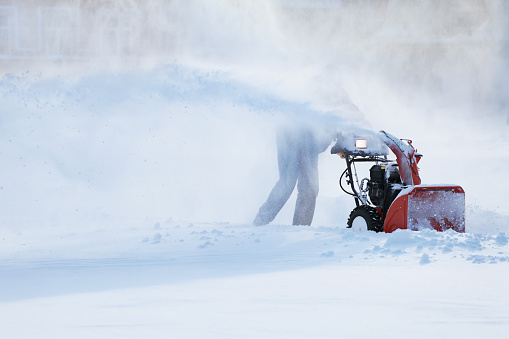 At Complete Lawn, we do more than beautify your lawn in the summer. When the weather turns cold and you need Arlington commercial snow removal companies, we're here to keep your place of business clear and running!
Northern Virginia and the D.C. area doesn't get large amounts of snow. On average, we see about 7.2 inches annually. But with that snow can come sleet, freezing rain and hail, and the icy conditions can wreak havoc on businesses and their operations. Should your parking lot or walkways be covered with snow or slippery ice, it could cause injuries to employees and customers. Not to mention the financial hit your business could take by shutting down for a day or more.
When you call on Complete Lawn, you can leave the worries about staying open to us. We'll keep an eye on the snow and ice conditions in the forecast, and have our crews available to clean out your outdoor space as needed. Once the snowfall is over, we're on it. Our crews come out and clear the ice and snow from your lots and walkways, and keep your business running and safe.
Our service is available with the equipment and manpower for most every snow removal need:
We handle snow plowing, snow blowing and sidewalk shoveling
We can pre-treat your lots and walkways
We will apply ice melting products to patches of ice
We use sand to mitigate icy conditions
We provide loader services for larger snow events
We monitor your area after the storm with ice watch services and treatment
Schedule Your Arlington Commercial Snow Removal Services Now!
Whatever your Arlington business, don't risk safety or a shutdown. Trust the snow removal service that local businesses use. Contact Complete Lawn today and see why we're your destination for Arlington commercial snow removal companies. We keep your outdoor space beautiful and clean year-round!
At Complete Lawn, we're proud of our dedication to professional service, and to our staying ahead of industry trends and best practices. That's why we are a proud member of the Virginia Turfgrass Council, the National Association of Landscaping Professionals, and the Professional Grounds Management Society. We work every day to provide our customers the best services possible, and to effectively serve the Northern Virginia community.