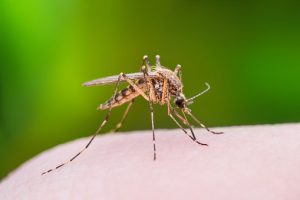 If you're battling mosquitoes and ticks in your yard, and are searching for Arlington VA mosquito control companies, try the professionals at Complete Lawn Service. Complete Lawn is a comprehensive lawn care and landscaping service that has been serving residents of northern Virginia since 1972. Our mission is to keep Arlington and northern Virginia lawns healthy year-round.
As you probably know, the mid-Atlantic region of the United States has a climate that attracts mosquitoes and ticks. A major pest control company recently ranked the Washington DC area and suburbs in the top 20 cities for mosquito problems. Mosquitoes and ticks not only bite humans and pets and cause irritating and itchy skin, they can also be carriers of Lyme disease and other more serious ailments.
Your Professional + Safe Arlington VA Mosquito Control Experts
Our mosquito control is a thorough and ongoing bi-weekly process in the spring and summer months. Our licensed professionals will inspect your property and offer recommendations to help keep your lawn free of nagging insects. We'll apply BT product to standing water areas, conduct a perimeter spray around the property edges, and specifically spray the more popular spots for insects, such as underneath decks. Once we spray the property, we'll leave a glue card to monitor insect activity.
Complete Lawn can make your lawn and landscape virtually mosquito-free, and do it without spraying poisonous chemicals around your lawn and creating more health risks. We use mosquito and tick repellent product sprays that are naturally made and are environment and pet-friendly. You and your family can use your property immediately after we finish treating it. Best of all, our program is fully guaranteed…if you notice a problem, call us within five days and we'll re-spray the property.
Stop worrying about the dangers of ticks and mosquitoes. Contact us today to get a price and to learn more about what makes Complete Lawn the top choice in Arlington VA mosquito control companies. We'll clean the bugs out and make your lawn healthier and safer.