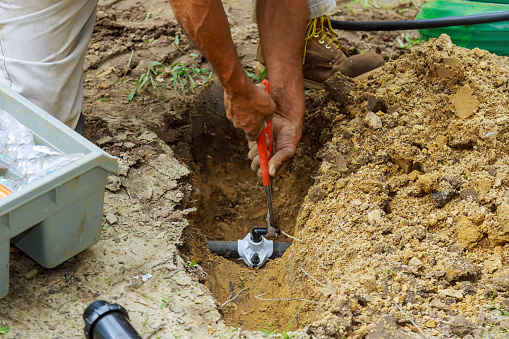 Will you be prepared when the Virginia winter months bring the cold and ice? Complete Lawn Service is your local authority for Arlington Virginia sprinkler winterization. We employ a team of irrigation experts that install, service and maintain sprinkler systems, and it's just one way Complete Lawn keeps lawns and landscapes beautiful throughout northern Virginia. We properly shut down your irrigation system for the colder months, and we can re-activate it again in the spring.
A sprinkler system is a considerable investment for a home or business property owner. It's well worth the minimal cost to deactivate it properly, to protect pipes and other parts from freezing and rust. Frozen pipes over time are susceptible to cracking, potentially damaging expensive valves and requiring a much more costly repair.
Let Complete Lawn handle your sprinkler winterization. Our full irrigation shutdown service includes:
Completely cutting off the water supply to the sprinkler pipes
Using an air compressor at the blowout point of each zone in the system to blow out any excess water
Opening test ports on backflow devices
Deactivating the system's main controller
The entire process takes a small amount of time and will effectively prepare your system to handle the Arlington winter months. But sprinkler winterization is just one part of how we keep your irrigation system healthy. When spring comes, call Complete Lawn for reactivate your irrigation again. We'll take care of all of the needed processes to keep your irrigation going properly, from inspecting water connections to adjusting any sprinkler heads for effective water distribution.
When you are in need of Arlington Virginia sprinkler winterization, turn to the pros that have been keeping northern Virginia landscapes beautiful for over 40 years. Call us today or use this form to request an estimate. We can keep your irrigation system healthy and your lawn green!