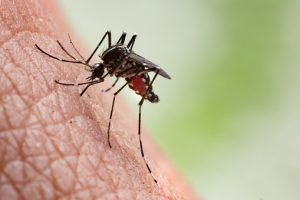 If your property seems overrun with mosquitoes and ticks, and you're searching for Bailey's Crossroads VA mosquito control companies, try calling Complete Lawn Service. Complete Lawn looks after all of your landscaping and insect control needs year round…we have been proudly keeping Northern Virginia lawns green, healthy and beautiful since 1972.
You probably already know that you live in an area with a climate that attracts pesky insects. Recently, a major pest control company placed Washington D.C. and its suburbs in the top 20 cities in the U.S. in mosquito population. And we don't need to tell you about the problems caused by mosquitoes and ticks…not just annoying, itchy bites, but potential health risks like Lyme disease and other ailments.
The pros at Complete Lawn know how to rid your Bailey's Crossroads property of mosquitoes safely. We start by conducting an inspection and showing you how to keep your lawn less attractive to bugs. We'll apply a specialized BT product to your standing water spots, spray the edges of your property, and specifically spray gathering areas for insects, such as underneath a deck. Once we're finished with the spraying, we'll place a glue card in a strategic spot to observe insect activity.
Complete Lawn not only keeps your lawn virtually mosquito-free, we do so without using hazardous chemicals that carry further health risks for you and your neighbors. Our repellent sprays are composed of natural materials and are environmentally friendly, and your family and pets will be able to use your lawn right away. We fully guarantee our mosquito control program: if you experience a problem within five days, we'll be happy to come out and re-spray your lawn.
Request Your Bailey's Crossroads VA Mosquito Control Services Today!
You don't have to share your lawn with mosquitoes and ticks. Contact Complete Lawn today and let us be the answer to your search for Bailey's Crossroads VA mosquito control companies. We'll help you enjoy your outdoor space freely again.
Need other services for your outdoor space? Complete Lawn does it all…we handle everything from lawn care, landscaping, irrigation systems installation and maintenance, snow and ice removal and much more! Reach out to us and let us know how we can keep your lawn and landscape healthy and beautiful all year!