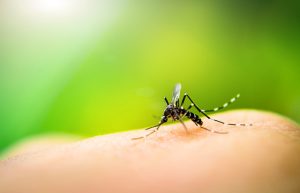 When the mosquito problem in your yard becomes troublesome enough for you to search for Falls Church mosquito control companies, it's time to contact Complete Lawn Service. We are a full service landscaping company that has been beautifying northern Virginia outdoor spaces for over 45 years. We are dedicated to keeping your Falls Church property beautiful and healthy year-round.
It would probably not surprise you that the northern Virginia climate is friendly to mosquitoes, with its warm temperatures and high humidity. Recently, a major pest control company conducted a survey that declared the D.C. area one of the 20 worst cities in America for mosquito problems. Mosquitoes and ticks are more than just annoying with their bites and itchy skin…they can also be carriers of Lyme disease and other health risks.
We carry out our thorough mosquito process throughout the spring and summer months. We employ licensed experts to inspect your property who will give you suggestions on keeping your lawn free of insects. We apply a special BT product to any standing water areas, use a perimeter spray at the edges of your property, and pay extra attention to popular gathering spots for insects, like beneath your deck. After treating your property, we'll leave a glue card to keep track of insect activity.
Our spraying and treatment process will keep your outdoor space virtually mosquito-free, and we do it without using hazardous chemicals that carry health risks for you and your neighbors. Our repellent sprays are naturally made and are safe for children and pets. You'll be able to use your lawn for activities immediately after spraying. Our program is also backed by our guarantee…if you see a problem within five days, let us know and we'll come out for an additional treatment.
Request Your Falls Church Mosquito Control Services Today.
It's time to eliminate your mosquito problems and enjoy your outdoor space. Contact us today to get a price and find out more about what makes us a preferred choice in Falls Church mosquito control companies. We'll clean the pesky insects out safely and keep your lawn beautiful.