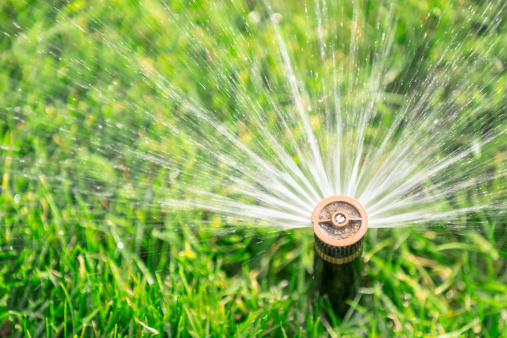 Spring is here, and Complete Lawn Service is the answer to your search for Falls Church Virginia sprinkler startup companies. We've been installing and maintaining irrigation systems in northern Virginia since 1972, and our team of professionals will keep your sprinkler system running properly and your landscape green throughout the spring and summer months.
If you've made the considerable investment for a sprinkler system, especially in our warm climate, you'll want to keep it functioning for as long as possible. Improper shutdown or startup can damage lines or cause them to burst, resulting in an expensive replacement. It's well worth the small cost of having experienced professionals shut down your system properly in the winter and restart it in the spring, to protect pipes and valves.
Look to Complete Lawn for your professional Falls Church sprinkler startup. We perform a complete startup process, including:
Full inspection of water connections and blowout points, including checking backflow devices
Closing of backflow test ports
Activating water flow and pressurizing the system for correct water pressure
Testing sprinkler head and valve operation in each coverage zone
Inspecting sprinkler heads and making adjustments if needed
Testing and cleaning the rain sensor
Cleaning or replacing clogged drip filters
Reprogramming the system controller for watering
Along with our full winterization shutdown, our spring startup service helps to protect your irrigation system investment and keep your lawn and landscape watered easily for years to come. We handle sprinkler system repairs too, so if a part of your system requires a repair, let us know and our irrigation experts can fix it.
Complete Lawn Service to keep your lawn beautiful. Call us today or request an estimate online, and see what makes us a trusted choice in Falls Church Virginia sprinkler startup companies. We keep Falls Church outdoor spaces green all year long!