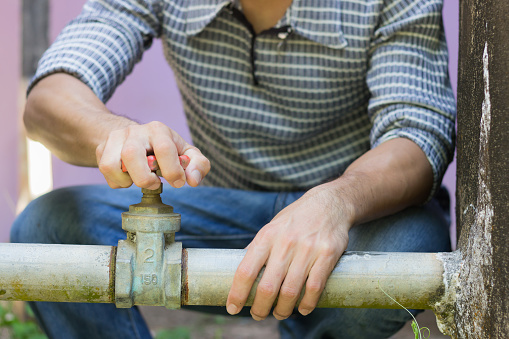 When the Falls Church winter cold is on its way, keep your irrigation system protected…let the pros at Complete Lawn handle your Falls Church Virginia sprinkler winterization. At Complete Lawn, we install, service and maintain sprinkler systems for residents and businesses throughout the region, and it's part of how we keep northern Virginia landscapes beautiful. We can properly shut down your system for the winter and then re-activate it for the spring.
A sprinkler system is a considerable investment, and it's well worth the relatively small maintenance cost to avoid expensive repairs. System maintenance especially includes proper seasonal shutdown and reactivation, to protect pipes and valves from freezing and rust. If ice builds up in the pipes and causes rust, it could lead to cracking and damaging over time, requiring costly fixes.
Keep your system protected and running with Complete Lawn's professional sprinkler winterization. We handle the process from start to finish, including:
Shutting off the water supply entirely to the system's pipes;
Attaching an air compressor device to each blowout point in the system, and blowing out any excess water for several minutes;
Opening test ports on each of the backflow devices;
Fully shutting down the system's main controller.
Our sprinkler winterization can be done in a relatively short time, and will keep your pipes from freezing in the Falls Church winter months. When spring rolls around, we'll be here to re-activate your system again. We'll inspect all of the water connections and backflow devices, and adjust any sprinkler heads as needed for effective water distribution. It's all part of how Complete Lawn keeps your lawn and landscape healthy throughout the year.
Complete Lawn Service is your destination for professional Falls Church Virginia sprinkler winterization since 1972. Call us today or use this form to request an estimate. We're here to help protect your sprinkler system investment.