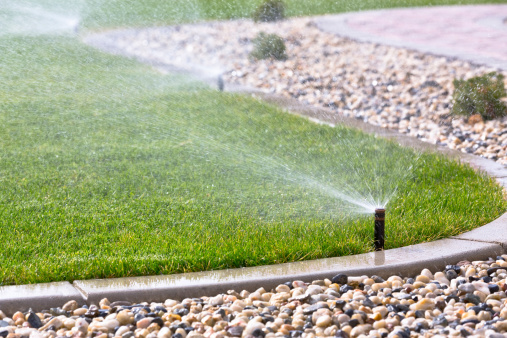 It's springtime, and Complete Lawn is ready to be your Franconia Virginia sprinkler opening and startup service. Sprinkler startup is just one of the many lawn and landscaping services we've been providing for northern Virginia residents since 1972. Our irrigation professionals can effectively maintain your system, and keep it watering your lawn for years to come.
As you know, your sprinkler system is a considerable financial investment. To protect your investment through the varying weather of Virginia seasons, it's important to keep it maintained. If your system is not properly shut down in winter or restarted in the spring, it could cause lines to crack or burst, resulting in a costly repair. Having professionals shut down and restart your system while inspecting and adjusting the key components is well worth the small cost.
Let Complete Lawn handle your sprinkler opening and startup. When we come out to your home, we'll restart your system through a complete process, including:
A full inspection of water connections, blowout points and backflow devices
Closing test ports on the backflow
Turning on the water flow and maintaining proper water pressure
Testing sprinkler heads and valves and ensuring flow in each zone
Adjusting sprinkler heads as needed for water distribution
Testing and clearing rain sensors
Cleaning any clogged drip filters
Programming the system controller to schedule watering times
Sprinkler opening and startup, along with our winterization service, are two ways we keep your system functioning properly at minimal cost. We do sprinkler system repairs too…if any part of your system isn't working as it should, let us know and we'll come out to repair it.
Call Complete Lawn today or use this form to request a price, and find out what makes us the preferred choice in Franconia Virginia sprinkler opening and startup companies. At Complete Lawn Service, we keep your outdoor space green and healthy throughout the year!