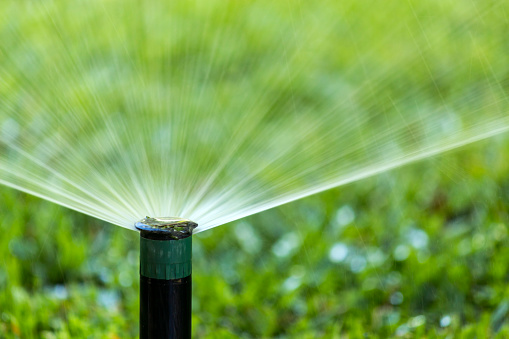 Is your irrigation system ready for the cold months? If you're searching for Lake Barcroft sprinkler winterization companies, then you're smart enough to protect your investment. Call the pros at Complete Lawn for sprinkler winterization…we specialize in installing and maintaining irrigation systems. It's one of many ways we keep northern Virginia landscapes beautiful and healthy. We'll shut down your system properly, and we can re-activate it again come spring.
If you as a homeowner invest in a sprinkler system, it makes sense to keep it functioning as long as possible. Excess water could cause underground pipes to freeze. Frozen pipes lead to cracking and rust, which in turn could cause costly damage to valves over time.
Our multiple step process for sprinkler winterization keeps your pipes free of excess water and protects them from freezing:
First, we completely shut off the water supply to the system.
We then connect an air compressor to a blowout point, and blow out each zone for two minutes, or until each zone is free of excess water.
When the water has been fully blown away, we'll open test ports on the backflow device and turn off the system controller.
That's it! Our shutdown process takes a very short time and will properly prepare the pipes for the Lake Barcroft winter months.
Our sprinkler winterization professionals are Certified Irrigation Designers, and we know how to best protect your sprinkler system for many years to come and help protect your investment while keeping your lawn healthy and green.
Don't forget to call Complete Lawn to start your system back up again. Once spring comes, we'll come out and re-activate your system properly, including inspecting the connections and adjusting the sprinkler heads if needed. We understand how important proper watering is to a beautiful lawn. We're here to help with all of your seasonal adjustments to your irrigation.
Be sure to ask us about our other services too, including landscaping, hardscaping, drainage solutions and much more…Complete Lawn can get it done for you, all at a fair price!
Request Your Lake Barcroft Sprinkler Winterization Today.
When you're looking for Lake Barcroft sprinkler winterization companies that can protect your system investment, call the pros that have been beautifying lawns since 1972. Click here to request a quote…we'll keep your system working for years to come!