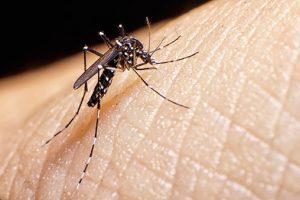 If you're feeling overwhelmed by mosquitoes and ticks and are looking for Lake Barcroft VA mosquito control companies, call the team at Complete Lawn Service. We've been keeping lawns and landscapes in Northern Virginia healthy and attractive since 1972, and part of our program is safe and effective mosquito control.
Lake Barcroft residents are fully aware of how the climate of their residence attracts mosquitoes. In fact, a major pest control entity has recently declared the D.C. region to be among the top 20 in the country for mosquito problems. And mosquitoes and ticks do more than just cause annoying itchy skin with their bites…they can also be carriers of Lyme disease and other potential risks.
At Complete Lawn, we attack your mosquito problems on multiple fronts throughout spring and summer. We inspect your property and offer suggestions for eliminating insects. We apply a safe BT product at your standing water spots, cover the perimeters of your lawn with insect repellent, and pay special attention to spraying likely gathering spots like underneath decks. After spraying, we place a glue card in a strategic spot to observe insect activity.
Our mosquito control process will not only keep your lawn virtually mosquito-free, you can also relax in the knowledge that our products are naturally made and safe. We don't use hazardous chemicals that put your family or neighbors at risk, and your family and pets can use your property immediately after our treatment. And our program is fully guaranteed; if you experience a problem within five days, call us and we'll return for a re-spray immediately.
Request Your Lake Barcroft VA Mosquito Control Today.
It's time you took your property back from bugs! Contact Complete Lawn today for a quote and let us be the solution to your search for Lake Barcroft VA mosquito control companies. We'll keep your lawn green, healthy and safe.
Be sure to ask us about Complete Lawn's other services too…we offer first class lawn care, landscape design, snow and ice removal, irrigation systems installation and much more!