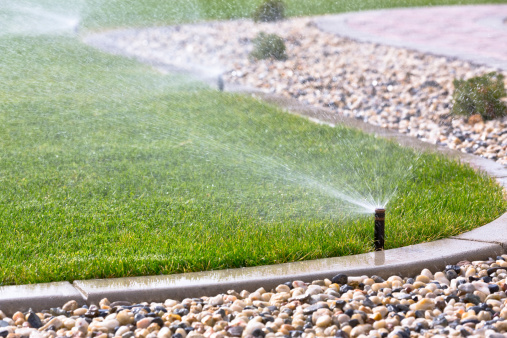 When summer is on the horizon and the weather warms up, it's time to start watering your lawn regularly again. At Complete Lawn, we're your Lake Barcroft Virginia sprinkler opening and startup experts. Since 1972, we've been the trusted landscaping and lawn care team for D.C. area residents and businesses, and we'll keep your sprinkler system running efficiently and your lawn green.
You know how considerable an investment your irrigation system is. To ensure that it keeps running for years to come, it's important to protect the pipes and valves. Just as shutting your system down properly in the winter months protects pipes from rust and cracking, you should have your system re-activated carefully in the spring to keep the lines from cracking and possibly requiring a repair. Having an irrigation professional inspect the key components and re-activate your system is well worth the small investment.
Let the irrigation pros at Complete Lawn handle the sprinkler opening and startup for your Lake Barcroft home or business. We activate your system through a complete process, including:
Inspection of water connections, blowout points, and backflow
Closing the backflow device test ports
Activating the system and pressurizing it for adequate water flow
Testing sprinkler heads and valves for effective operation in each zone
Inspecting and adjusting sprinkler heads as needed for coverage
Uncovering, testing and cleaning the rain sensor
Cleaning out clogged drip filters
Programming the system controller for scheduled watering
In addition to our winterization service, our sprinkler startup will keep your irrigation system going for many years to come, at an affordable price.
The professionals at Complete Lawn are experts in irrigation system design, installation and maintenance, and we stay on top of industry best practices. We are a member of the Virginia Irrigation Association and a Rain Bird Select Contractor, as well as an EPA Watersense partner.
Reach Out For Your Lake Barcroft Sprinkler Opening and Startup Today!
Contact Complete Lawn today or use this online form to request a price, and see why residents and businesses trust Complete Lawn for their Lake Barcroft Virginia sprinkler opening and startup. At Complete Lawn, we help your outdoor space reach its full potential!