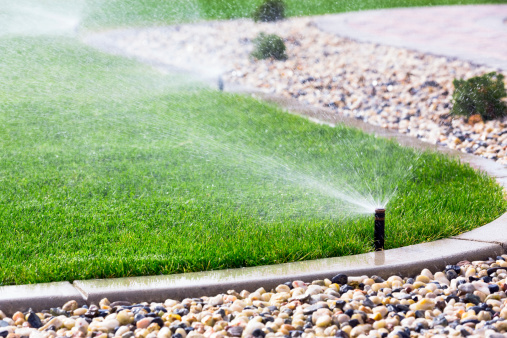 When the cold weather comes, it's time to protect your sprinkler system investment. And if you're searching for Lewis Park sprinkler winterization companies, Complete Lawn is your destination!
Sprinkler winterization and maintenance is one of our many specialty services, and it's just one way we help keep your northern Virginia lawn beautiful and healthy. We can safely and completely shut down your system, and bring it back to full function in the spring.
Your sprinkler system came at a considerable cost. Why not keep it running for as long as possible? Sprinkler winterization for the cold season in Lewis Park protects pipes from freezing and rust, which in turn keeps pipes from cracking. A cracked pipe could result in damage to valves, resulting in unnecessary repair costs.
We use a multi-step process that we complete quickly to properly shut down your sprinkler system and help protect it through the winter:
We completely shut off the water supply to the system.
We connect an air compressor to a blowout point and spend at least two minutes blowing out excess water in each zone.
Once the pipes are free of water, we open the test ports on the backflow device.
We turn off the sprinkler system controller. Job complete!
Once spring comes, call us back to re-activate your system. We'll take care of all the needed functions, from thoroughly inspecting water connections and backflow devices to re-calibrating sprinkler heads.
At Complete Lawn, we know the importance of steady irrigation to a beautiful lawn. We'll keep your sprinkler system ready and running year round, and spare you the cost of repairs down the road.
Reach Out For Your Sprinkler Winterization in Lewis Park Today!
For Lewis Park sprinkler winterization companies that you can trust your lawn to, call the pros that have been beautifying Virginia landscapes since 1972. Contact us today for a quote; we'll take care of your system and keep it running for years to come.
Complete Lawn is a proud member of the Virginia Turfgrass Council, the National Association of Landscape Professionals, and the Professional Grounds Management Society.