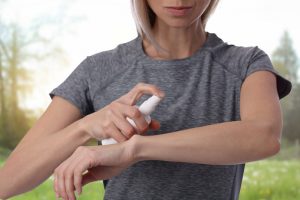 If you live in northern Virginia, chances are you're aware of our mosquito problems. In fact, a major pest control company recently ranked the D.C. area in the top 20 cities in the U.S. for mosquito problems. If you live in the area, and are in need of Lewis Park VA mosquito control companies, call on Complete Lawn and see how we can rid your property of those pesky and dangerous insects.
Mosquitoes and ticks are annoying enough with their bites and the itching they cause. They can also be a carrier of more dangerous diseases. But you also want to deal with the problem safely, without spraying poisonous chemicals around your yard and putting your family and neighbors at risk. At Complete Lawn, our mosquito and tick repellent sprays are developed from natural and environmentally friendly oils. Your family and pets can safely use your property immediately after it's treated.
Our employees are fully licensed and specially trained, and we can show you how to make your Lewis Park yard less conducive to infestations. From April through October, we spray your property approximately every two weeks. We'll apply a natural BT product to your standing water areas and surround your property with a barrier spray, paying extra attention to popular insect gathering spots like beneath decks and woods lines. When we're finished spraying, we'll leave our bright yellow glue card to keep track of pest activity.
Complete Lawn fully guarantees our mosquito control service. While no service can eliminate every mosquito, we'll be happy to come out and re-spray should you have a problem within five days.
Need other landscaping services? Complete Lawn Service is just that…a landscaping and lawn maintenance company that offers comprehensive lawn care! Reach out to us for your lawn mowing and edging, landscape design, irrigation systems installation and maintenance, and much more!
Request Our Lewis Park Mosquito Control Services Today.
If you'd like to find out more about how our natural sprays and proven techniques make us the preferred choice for Lewis Park VA mosquito control companies, call us at (703) 560-5296 or use this form to request an estimate. We look forward to keeping your lawn healthy year round!