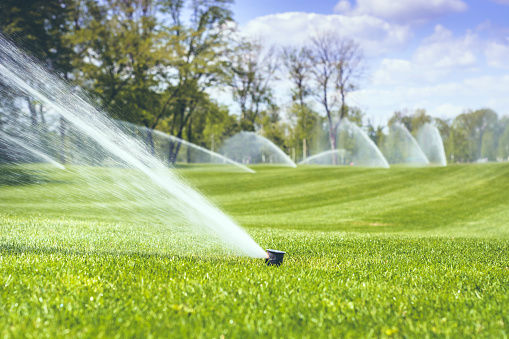 The summer months are coming, and Complete Lawn is the answer to your search for Lewis Park Virginia sprinkler startup companies.
Effective system reactivation is just one of the services we've been offering northern D.C. suburban residents since 1972. We'll help keep your system running effectively, and your landscape watered throughout the warmer seasons.
We're well aware of the cost and investment involved in your sprinkler system, which is what makes system maintenance so important to protecting its components. If the system is not reactivated properly in the spring, pipe lines can crack or burst and require sometimes expensive repairs. The cost to hire professionals to winterize your sprinkler system and restart it in the spring, while protecting the key parts, is well worth it by comparison.
The experts at Complete Lawn can start your sprinkler system in the spring months, with our multiple step process that safely activates your system. We look after your system from start to finish, including:
Inspecting each of the water connections, blowout points, and backflow devices
Closing of the test ports on the backflow
Maintaining the ideal water pressure as the system is turned on
Testing the sprinkler heads and valves in each zone for effective water distribution
Ensuring distributed coverage by adjusting sprinkler heads
Uncovering, cleaning, and checking operation of the rain sensor
Cleaning out any clogged drip filters
Programming the water controller to run at proper times based on local conditions
At Complete Lawn Service, our professionals know how to get the job done properly. We are a member of the Virginia Irrigation Association, and we are also an EPA Watersense partner and a Rain Bird Select Contractor. We believe in providing the best possible irrigation services, and we work to stay on top of best practices in the landscaping industry.
Contact Us For Your Lewis Park Sprinkler System Startup Today!
Let Complete Lawn help keep your irrigation investment running strong for years to come, through our spring startup and our winterization service. Contact us today using this form for a quote, and see why we're the trusted name in Lewis Park Virginia sprinkler startup companies. At Complete Lawn, we help keep your landscape beautiful and healthy throughout the year, all at a fair price.