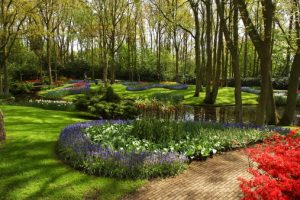 If you're searching for Makleys Corner landscaping companies dedicated to bringing out the full potential of your outdoor space, try calling the pros at Complete Lawn. Complete Lawn is conveniently based in Alexandria, and we offer exceptional landscaping services throughout Northern Virginia. We can help you come home not only to a stunning landscape, but also to a home with greater resale value…studies show that professionally designed landscapes increase home resale value by as much as 15%!
As a homeowner or business property owner, you have enough on your plate without all of the time, expense and effort it takes to maintain a beautiful lawn or revitalize your landscape. But you also know that's it's always worth it. Leave it to us! Complete Lawn has been serving the needs of home and business owners since 1972, with the highest quality service you'll find among Makleys Corner landscaping companies.
Expert Makleys Corner Landscaping Companies + Lawn Care Services
Our full suite of lawn service includes:
Landscapes/Hardscapes. We have years of experience designing landscapes that feature a well-balanced placement of trees and shrubs that provide both beauty and function. And our hardscape designs give your home an attractive look with patios, walkways and retaining walls, all with proper attention to structure and soil drainage.
Lawn Care Services. We mow and edge your lawn on a regular basis, change direction where terrain permits, and weed-whip unreachable spots. We offer varying lawn care programs based on your needs and keep your lawn weed and insect free. Our specialized shrub and bed care keeps bushes neatly trimmed and in good condition.
Irrigation. We'll keep your lawn healthy and properly watered with a state of the art irrigation system, designed by our own Certified Irrigation Designer on staff. We'll take the time to design a sprinkler system that evenly distributes water throughout your yard, with minimal runoff and waste. Once our system is installed, we'll upgrade or repair it as needed.
In addition, Complete Lawn can wipe out those pesky Virginia mosquitoes in the summertime, with an environmentally friendly and safe oil spray. And in the winter months, we use our plows to dig residents and businesses out of the snow and cure your cabin fever.
To find out more about our services, click on the appropriate tabs on this website for your outdoor space needs.
Call or e-mail us today for a complimentary consultation, and let us help you turn your outdoor space into something special!