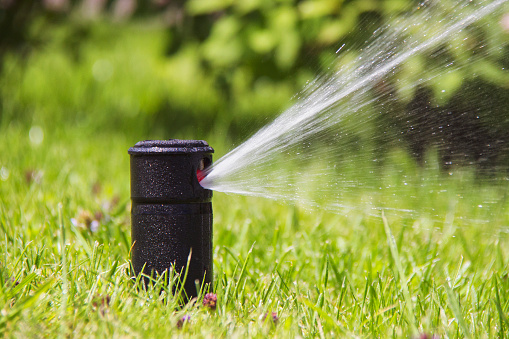 When winter months and colder temperatures come to Northern Virginia, make sure that your sprinkler system is ready. Reach out to the pros at Complete Lawn for your Mount Vernon Virginia Sprinkler Winterization. Irrigation system maintenance is one of our specialties, and it's a part of how we've been keeping northern Virginia lawns healthy since 1972. Complete Lawn is a proud member of the Virginia Irrigation Association, a Rain Bird Select Contractor, and an EPA Watersense Partner.
While your sprinkler system makes your life much easier and adds value to your Mt. Vernon home, it's also a considerable investment, and one you should protect from rusted pipes and valves. Shutting down your system properly for the winter is a key part of keeping your system healthy, and protecting pipes and valves from long term, more expensive cracking and repairs.
Leave the deactivation of your system to the team at Complete Lawn. We shut down your system through a multiple step process: we completely shut off the water supply to the pipes, connect an air compressor to the blowout point, spend at least two minutes blowing out each zone, open up the test ports on backflow devices, and completely shut down the controller.
The entire process takes just a few short hours and will leave your system's pipes ready for the cold Mount Vernon winter. And when spring comes around again, we'll be here to start your system back up. We inspect the sprinkler heads, make any needed adjustments, and reactivate and pressurize your system properly. With our deactivation and reactivation process, we'll keep your system running for years down the road.
More About Mount Vernon Virginia Sprinkler Winterization
Since 1917 we have been creating beautiful outdoor spaces, delivering a full suite of lawn, landscape and sprinkler services using the finest quality materials and knowledgeable personnel. We believe a professionally designed, installed and maintained lawn and landscape will increase your enjoyment of your property and improve its value. Our work provides you with years of enjoyable and worry-free outside spaces plus an investment that grows in value as your trees and shrubs mature. When you call CLS, be assured that you will get the results you'll love coming home to.
Protect your irrigation system and its value to your home. Call on the Mount Vernon Virginia Sprinkler Winterization experts at Complete Lawn today, or use this online form to request an estimate. Irrigation maintenance is one of the many ways we keep Northern Virginia lawns healthy year-round!