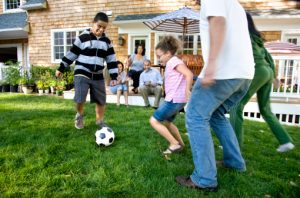 Are you looking to beautify your home's outdoor space? Try calling the experienced professionals at Complete Lawn, your top choice in North Springfield lawn service. We can turn your lawn and landscape from ordinary to extraordinary, and you'll come home to a first class professional landscape with lush greenery…and we'll give your home a boost in its return. Studies have demonstrated that professional landscapes can mean as much as a 15% greater return on resale value!
Your Established Choice for North Springfield Lawn Service
Complete Lawn has been in the business of improving lawns in Northern Virginia for over four decades, and we know how to improve local outdoor spaces.From lawn mowing to mosquito control to snow and ice removal, we handle it all for the outdoor space of your North Springfield home.
Our suite of lawn services include:
Lawn and Shrub Care. Our mowers cut grass to varying heights and change direction when the terrain allows. We also recycle clippings and weed-whip unreachable spots. Our lawn care programs create a thick and green lawn and roots out weeds, and we have a variety of shrub and bed care programs that keep bushes and shrubs healthy and properly trimmed.
Landscapes and Hardscapes. Our well-balanced landscape designs aren't just beautiful, they're functional, too, with a well-balanced placement of bushes and plants. We also design visually appealing hardscapes that give function to walkways, patios and retaining walls, with proper drainage to protect soil.
Irrigation. Nothing is more important to a beautiful and healthy lawn than proper watering. Complete Lawn's Certified Irrigation Designer will look over your property and design a sprinkler system that will evenly distribute water without wasting it. We'll maintain the installed system year-round, and when needed, we can upgrade or repair the system for your lawn's needs.
We deal with those pesky Virginia mosquitoes too, with a specialized oil spray that is environmentally, pet and kid-friendly, enabling you to safely use your lawn right away. And we stay open in the winter months too…if you're buried under snow and ice, call us and we'll have our team plow you out again.
Feel free to have a look around this website and learn more about what makes Complete Lawn stand out in North Springfield lawn service. And when you're ready to love your outdoor space, contact us for a free consultation. We look forward to enhancing your home for the better!