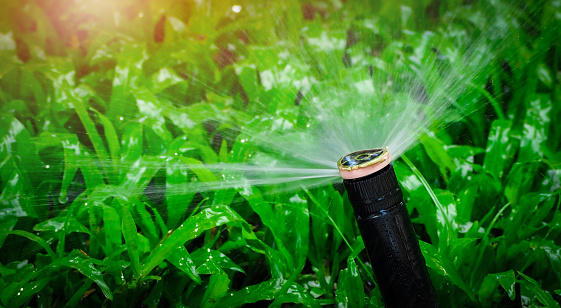 When the northern Virginia winters come, you'll want to have your irrigation system protected. Call the professionals at Complete Lawn Service for Reston Virginia sprinkler winterization. We've been keeping northern Virginia lawns healthy and beautiful since 1972, and installing and maintaining irrigation systems is a specialty of ours. We are a member of the Virginia Irrigation Association, a Rain Bird Select Contractor, and an EPA Watersense Partner.
A sprinkler system is a wise investment…it adds simplicity to your life and value to your home. But it's also a costly investment, making it important for you to protect it from damage and expensive repairs. Winterizing your sprinkler system will protect the pipes from freezing and rust, and protect valves from damage in the long run.
With Complete Lawn, you can leave the shutting down of your sprinkler system to experienced professionals, with the experience and equipment to properly blow out pipes without causing damage. We'll take care of all of the necessary steps from start to finish: shutting off the water supply; connecting our air compressor to the blowout point; blowing out each zone for at least two minutes; opening the test ports on the backflow devices and turning off the controller.
The process takes a short amount of time and will ready your system for the Reston winter months. And come spring, we'll be here to start your system up properly again. We'll inspect and adjust your system's connections and sprinkler heads, turn on and pressurize the system. Our irrigation maintenance will keep your system watering your lawn properly for many years to come.
Be sure to protect your sprinkler investment. Call the Reston Virginia sprinkler winterization professionals at Complete Lawn today, or click here to request an estimate. It's just one of the many ways we keep your landscape green!