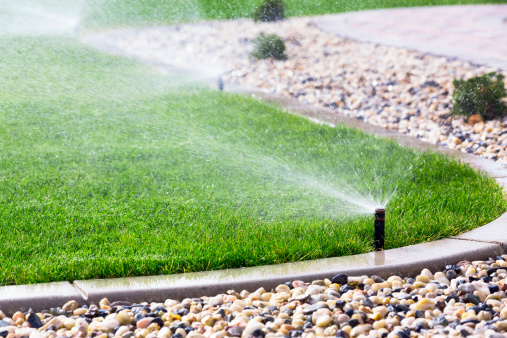 When springtime comes around, it's time to start watering your lawn again…and Complete Lawn is your destination for Reston Virginia sprinkler startup and opening companies. Complete Lawn has been keeping landscapes beautiful in northern Virginia since 1972, and our irrigation experts can maintain your sprinkler system and keep it working for the long haul through the hot Virginia summers.
Your sprinkler system is a considerable investment, so it's important to keep it properly maintained and able to handle the rigors of our sometimes dry climate. Improperly starting your system in the spring can cause lines to crack or burst, and result in a costly repair. Just as shutting down your system properly for winter is important to protect the pipes, it's best to have lawn care professionals re-activate it for the summer months.
Let Complete Lawn handle the process of starting up your system for the summer. Our company is a member of the Virginia Irrigation Association, a Rain Bird Select Contractor, and an EPA Watersense partner. For Reston residents and businesses, our full sprinkler startup includes:
Full inspection of water connections and blowout points
Closing test ports on backflow devices
Pressurizing the system upon activation to maintain proper pressure
Testing sprinkler heads and valves for effective operation
Adjusting any misaligned sprinkler heads to ensure needed coverage
Uncovering and cleaning the rain sensor
Cleaning any clogged drip filters as needed
Programming the controller for scheduled watering times
Our spring startup and fall winterization are cost-effective ways to protect your irrigation system and keep pipes and devices intact. Should your sprinkler system need repairs, call us…we can do that too.
Keep your system working effectively and your lawn beautiful. Contact us today to request a price, and let us show you what makes Complete Lawn the preferred choice in Reston Virginia sprinkler startup companies. We're dedicated to keeping outdoor spaces beautiful and healthy year-round.