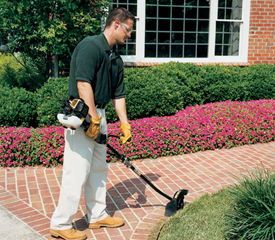 Landscapers in Alexandria Virginia like Complete Lawn Services will fulfill your lawn care and landscaping requirements. Among all the Alexandria Virginia landscapers, we have the most experience with full-service landscape design.
In addition, landscapers in Alexandria Virginia open and close businesses quite frequently. Complete Lawn Services has been assisting with lawn care and landscaping needs since 1972. Contact as many competing Alexandria Virginia landscapers you desire, you will receive the best in full-service landscape design.
Leading Landscapers in Alexandria Virginia
When other landscapers in Alexandria Virginia fail to perform, call Complete Lawn Services. For full-service landscape design as well as lawn care and landscaping, few Alexandria Virginia landscapers will exceed your expectations.
We are leaders in Virginia landscape grading and drainage services. Most homeowners know that poor drainage can cause a lot of problems for your yard and your home. If you are concerned about flooding or erosion, we can find a solution that fits your landscape. A proper draining method will promote the health of your lawn and preserve the structural integrity of your property.
We provide such landscape drainage services throughout Northern Virginia as surface drainage problems, sub-surface drainage problems, perched water table issues, poor or compacted soil, French drains and buried downspouts.