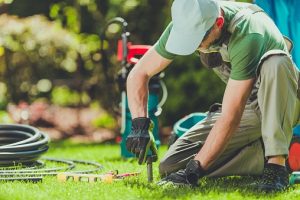 For northern Virginia sprinkler startup companies that will activate your system for the summer months right, call on Complete Lawn Service. Our team of professional irrigation experts have been installing and maintaining sprinkler systems for northern Virginia homes since 1972. We can help keep your irrigation system running efficiently and keep your lawn healthy throughout the spring and summer.
Why Complete Lawn For Your Northern Virginia Sprinkler Startup?
When you've made the considerable investment for a sprinkler system, especially in the warmer climates of northern Virginia, you want to keep it functional for as long as possible. In addition to shutting down your system for the colder months, it's important to start up your system properly in the spring to protect pipes and valves. If your system is restarted too quickly or without inspecting key components, it can cause the main lines to crack or burst, and require a repair.
Trust Complete Lawn Service as your sprinkler startup experts. Our irrigation professionals will come out to your property and activate your system through our complete process:
Inspecting the water connections and blowout points, and checking the backflow device
Closing backflow test ports
Activating the system and turning on the water while maintaining proper water pressure
Testing sprinkler heads and valves for effective operation in each zone
Ensuring coverage in all zones by adjusting sprinkler heads as needed
Ensuring the rain sensor is working properly, including keeping it clean and uncovered
Cleaning out any clogged drip filters
Reprogramming or adjusting the system controller
Our spring startup service is an affordable and essential part of keeping your irrigation system running effectively for years to come. Call us today or use this online form to request an estimate, and find out more about what makes us the preferred choice of northern Virginia sprinkler startup companies. At Complete Lawn, we're here to help your property reach its full potential!
Serving: Alexandria, Falls Church, Franconia, Springfield, Lewis Park, Reston, Alexandria,
At Complete Lawn Service, we believe in ensuring our customers' trust, and we're proud to be recognized by the Virginia Turfgrass Council and the National Association of Landscape Professionals. We also employ irrigation designers that are certified by the Irrigation Association.