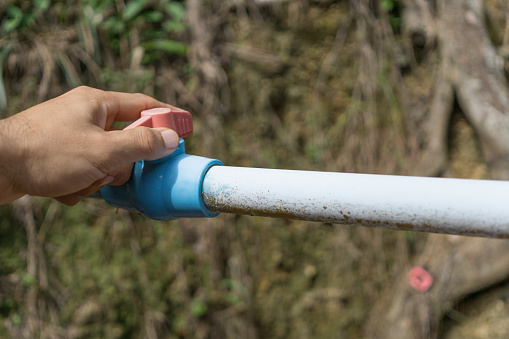 If your preparing your lawn for the winter months and require the services of northern Virginia sprinkler winterization companies, call the pros at Complete Lawn Service. Installing and maintaining sprinkler systems is one of our specialties, and it's one of the ways we've helped beautify lawns and landscapes in the D.C. region for over 40 years. We're ready to help shut down your system for winter, and we'll be ready to get it running again when spring returns.
Winterizing a sprinkler system is essential to keeping it running properly and for as long as possible. After all, a sprinkler system is a considerable investment on your part. Your system and pipes need to be protected against freezing and rust. Should the pipes freeze, they are susceptible to cracking and rusting, which could ultimately damage the expensive valves.
Our sprinkler winterization process involves multiple steps. We shut off the water supply completely to the system. We connect our air compressor to the blowout point, and blow out each zone for at least two minutes. Once any excess water is blown out of all of the pipes, we open the test ports on the backflow device, and turn off the controller. The process happens quickly, and your system will be properly shut down for the cold weather.
Remember, we'll be ready to help you get your system back up in the spring! We perform all of the necessary start-up functions, from inspecting water connections and backflow devices to adjusting sprinkler heads as needed and much more. At Complete Lawn, our professionals are Certified Irrigation Designers, and we know how to best care for your sprinkler system and keep it running strong for the long haul.
Our winterization service is just part of how we maintain sprinkler systems; Complete Lawn is here for all of your needed seasonal adjustments. Reach out to us for all of your landscaping needs, including drainage solutions, pest control, hardscaping and more!
Request Your Northern Virginia Sprinkler Winterization Service Today!
When you're searching for dependable northern Virginia sprinkler winterization companies, go with the service that has been keeping Virginia lawns healthy since 1972. Contact Complete Lawn today to request a quote. We'll keep your system doing its job for years to come.
Serving: Franconia, Alexandria, Arlington, Falls Church, Lake Barcroft, Lewis Park, Oakton, Reston, Springfield, Lorton, Mount Vernon, Belle Haven,